Meet Our Donors
We thank all our planned-gift donors for their generous support. Here are some of their stories.
Tom and Marie Jackson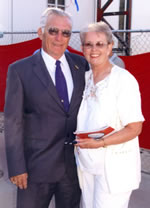 Tom and Marie Jackson are true products of their community – their local community college that is. Tom graduated from Long Beach City College; Marie from Cerritos College. Before retiring, both worked at Cerritos College (Marie 41 years as a classified employee and Tom 26 years as a member of the Business Education Division faculty). But you won't find these two on rocking chairs on their porch. They remain active in campus life serving on advisory committees and participating in a number of college activities. Tom serves as a Cerritos College Trustee and on the Foundation Board of Directors.
The Jacksons strongly believe in giving back to an educational system that continues to make a difference in the lives of thousands of students each year seeking an affordable, yet quality education. They are able to see first hand the financial need of community college students with the rising cost of tuition, textbooks and classroom supplies. Tom and Marie are the first to tell you they believe that a community college education should be available for everyone interested in expanding their skills and knowledge. Tom and Marie told the Foundation, "We want to provide for a continuance of our financial contributions, even after our death. The Cerritos College Foundation (and their many scholarships) is a perfect conduit for financing scholarships for future students."
---
Jill and Kent Colbath
"Give me a long enough lever, and I will move the world." – Archimedes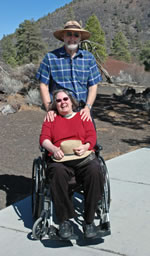 Of course a lever isn't much use without a fulcrum, and to Kent and Jill Colbath that's just what Cerritos College provides to modern American higher education. Kent began his studies at Chaffey Community College, eventually earning a doctorate from the University of Oregon. Kent was on the faculty of the Earth Science Department at Cerritos for 15 years before retiring in 2005, and still uses "we" whenever he discusses the college or the department. Jill has been supporting future teachers with scholarships through the Cerritos College Teacher Training Academy since the inception of the program.
At least 80 different languages are spoken in the homes of Cerritos College students, and half of our graduates are in the first generation within their families to earn a college degree. The recognition and financial aid provided to our students through the foundation can have a huge impact on their educational careers, often well out of proportion to the size of the award. Donors can thus achieve tremendous "leverage" from their contributions.
The erratic record of public funding for California community colleges highlights the value of building an independent, financially stable college foundation. Jill and Kent have included the Foundation in their estate planning because they would like to see the Foundation's endowment achieve a critical mass such that it can provide support for our students in perpetuity.